Is All My Debt Discharged in Bankruptcy?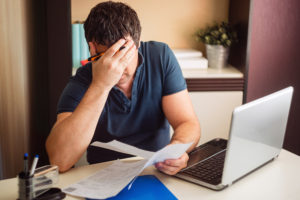 Bankruptcy provides a fresh start for many people because much of their debt is discharged. However, whether all of your debt will be discharged in bankruptcy depends on the type of debt you have, what property you want to keep, and the type of bankruptcy you are filing in Ohio. The bankruptcy lawyers at Amourgis & Associates, Attorneys at Law explain this information in more detail below.
As always, we can discuss your options for bankruptcy further during a free, confidential consultation with an experienced Ohio bankruptcy attorney.
What Is a Discharge in Bankruptcy?
A discharge in bankruptcy releases you from liability for certain debts you have not repaid. You are not longer legally responsible for paying on this debt. The debtor cannot take any further legal action against you once you receive a discharge for the debt.
So, the answer to "Does bankruptcy wipe out debt?" is usually "yes." However, the extent of the discharge largely depends on the type of debt you have and the type of bankruptcy you are filing. Some debts cannot be discharged while others can.
In a chapter 7 bankruptcy, you can have all of your dischargeable debts eliminated. The bankruptcy trustee liquidates any non-exempt property you have, sells it off, and then pays higher priority creditors with the proceeds. Any debt remaining is then discharged.
In a chapter 13 bankruptcy, not as much debt is discharged. This is because you enter into a three- to five-year repayment plan to pay off as much debt as possible. After the end of your plan, the remaining debt is discharged.
Which Debts Are Dischargeable?
So, what debt does bankruptcy clear? The most common types of debts that are dischargeable include:
Credit card debt
Personal loans
Collection agency accounts
Past due utility bills
Past due rent
Deficiency balances if property was repossessed
Civil court judgments
Business debt
Social Security overpayments
Loans and overpayments from veterans assistance
Attorney fees (not for bankruptcy, child support, or alimony awards)
Some other types of debts can technically be discharged, but it may be more difficult to get this relief. For example, student loan debt can only be discharged if you can prove undue hardship. Federal tax debts can only be discharged if the debt is at least three years old, the debt is owed for income tax, the Internal Revenue Service assessed the tax at least 240 days ago or not at all, and it is determined that you did not commit fraud.
What Debt Cannot Be Discharged When Filing for Bankruptcy?
Some people are surprised when they ask, "Does filing for bankruptcy eliminate debt?" and the answer is "not all of it." Not all debts can be discharged. Section 523(a) of the U.S. Bankruptcy Code lays out 19 categories of debts that cannot be discharged under bankruptcy.
The most common types of debts that cannot be discharged under this law include:
Debts not included in the bankruptcy petition
Domestic support obligations, including child support and alimony
Debts to the government for fines and penalties
Debts for most government-funded or guaranteed educational loans
Debts for personal injury damages caused by the debtor's drunk driving
Debts for willful or malicious injury to a person or property
Certain unpaid taxes, including tax liens
Retirement plan loans
Obligations affected by fraud or maliciousness
Debts that were incurred after the bankruptcy filing
Additionally, if you file chapter 7 bankruptcy, you will still be responsible for paying any owed condo or coop association fees, as well as any debts that were not discharged in a previous bankruptcy.
If you want to keep some of your secured property (like your car), you'll usually reaffirm that debt and continue to make payments.
Your creditors can also request that the bankruptcy court not discharge the debt you owe to them. If the court agrees, you will still be responsible for paying off this debt.
How an Ohio Bankruptcy Lawyer Can Help
The bankruptcy process can be very confusing for someone unfamiliar with the intricate details and rules surrounding it. Our team of bankruptcy lawyers understand that you likely have many questions about bankruptcy, like "Does bankruptcy clear debt?" or "Will bankruptcy eliminate all of my debt?" Our knowledgeable Ohio bankruptcy attorneys can answer all of your questions and give you the peace of mind of knowing that you are in capable hands.
We will also help by:
Explaining your legal rights and options
Determining which type of bankruptcy is best for your case
Working to exempt as much of your property as possible
Eliminating as much debt as possible
Preparing detailed court filings and schedules
Preventing mistakes that can cost you more money in the long run
Defending you against claims from creditors
Working to remove liens on your property
Helping you keep your home, if possible
Stopping harassing collection calls
Stopping creditors from attempting to collect discharged debts after your case is concluded
At Amourgis & Associates, Attorneys at Law, we are dedicated to fighting to protect the rights of individuals and families. We have convenient offices located throughout the state where we can meet with you and explain how we can help.
Contact a Bankruptcy Attorney Today
At Amourgis & Associates, Attorneys at Law, we only represent individuals and consumers. We want to help protect your legal rights and provide the fresh start you need after job loss, illness, or other financial setbacks. Our compassionate bankruptcy lawyers will work directly with you to create a legal strategy designed to provide the best outcome for you. With our personalized debt relief plan, you can focus on a more promising future.
We have helped countless individuals get out from under crushing debt, and we want to help you, too. Call us today or fill out our online form to schedule a free case review with one of our skilled Ohio bankruptcy lawyers.